Broadcasting Best Practices
Getting started:
Check out our getting started guide for more information about your Blast Box, how to pair it with your Blast Radio profile, and how to broadcast.
Check your monitor:
On the front of your Blast Box is a 1/4" headphone jack. This monitors the audio coming in to your device. Before you broadcast, listen to your monitor to check the sound quality. We recommend increasing the volume of your audio source as high as it will go without distorting. You can also watch the LED levels on the front of your device.
Use Sound Check to test your broadcast quality:
In the Blast Radio app there is a feature called Sound Check that lets you do a broadcast only you can hear. After pairing your device, tap the broadcast icon on the top right, select Sound Check, then start your broadcast. A yellow ring will appear around your profile picture so you know you're in Sound Check mode. From the broadcast drawer you can listen to check your broadcast quality.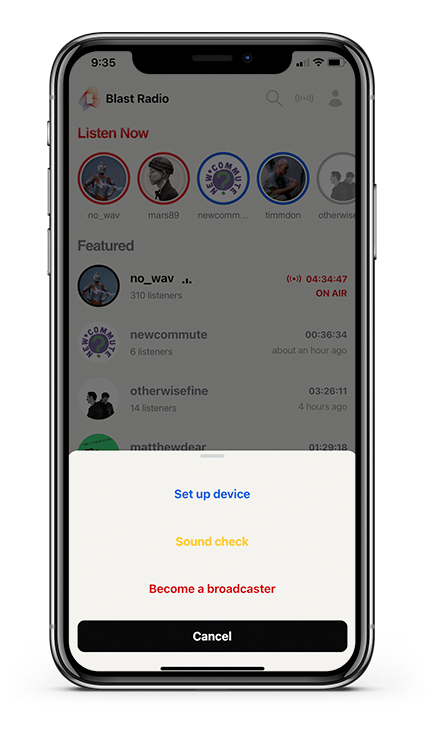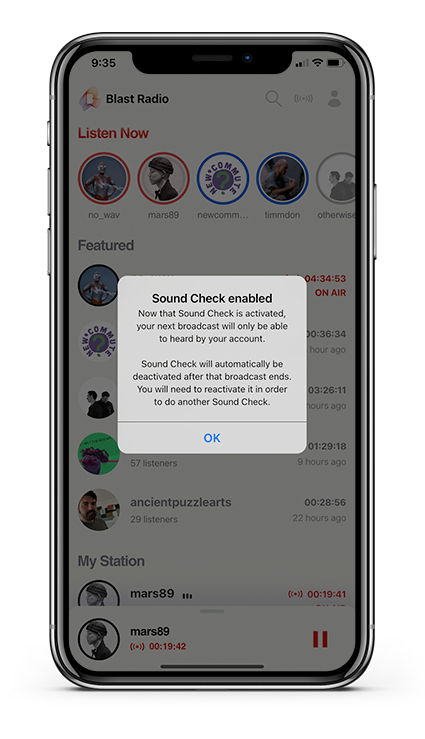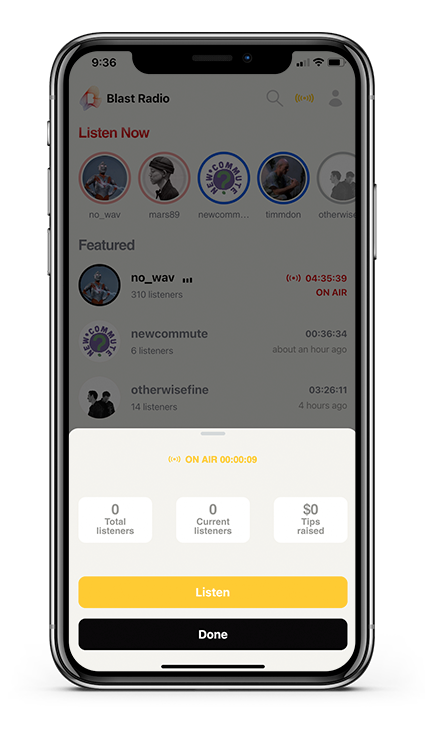 Plug your device in while broadcasting:
A full charge on a Blast Box will enable you to broadcast for ~3 hours. That said, we recommend plugging your device in while broadcasting to ensure battery life.
We suggest plugging your device in to a wall to charge it. Connecting your device to a computer for charging can cause background noise.  
Ensure your internet connection is strong:
When you broadcast on Blast Radio, we upload the audio to the cloud in a lossless format and then deliver it in the highest possible quality to listeners. Doing this requires a stable and quality internet connection.
We have buffers in place to account for as much quality control as possible (this is why there's a short delay between your live audio and when listeners hear it), but even the best buffers will not account for a poor connection.
Four steps to ensuring your connection is strong:
1) Disconnect other devices from WiFi: Every device on your network uses bandwidth. Turn off WiFi on unused devices to preserve bandwidth for your broadcast.
2) Reset your router before you broadcast: This only takes a couple minutes and will ensure your router is running at optimal speed.
3) Be as close to your router as possible when broadcasting: The further you are from your router, the weaker your connection will be. Being in the same room as your router will give you the strongest connection.
Note: Many internet-provider supplied routers are not the highest quality. If your router isn't giving you the broadcast quality you want, consider upgrading to Google Nest, eero, or one of these options recommended by PC Mag.